Most tourists come to Peru to visit the main attraction, Machu Picchu. This incredible ancient city, built by the Incas is undoubtedly an exceptional site, but there is so much more to Peru beyond it. Let us take you on a journey through the lakes, mountains, cities, and villages of central and southern Peru to show you the vast cultural diversity of this country.
LIMA
Lima is the capitol of Peru and the largest city in the country. The Lima Metropolitan Area has over 10 million inhabitants, so you can imagine it's a large and busy place. Located on the central coast of Peru and overlooking the Pacific ocean, Lima definitely has a surfer's culture. Despite the cold weather and grey skies, you will see on any given day surfers riding the waves. The locals call this phenomena "panza de burro" which translated into "the donkey's belly", but when the sun is shining Lima is one of the most beautiful cities with a cool breeze and gorgeous sunsets.
If you plan your vacation in Peru you will most likely stop here for a day or at least catch a layover. Sadly most of the tourists, unaware of what the city has to offer move on quickly to their final destination, like Machu Picchu, never giving this city a chance. If you know where to go and stay, Lima can be a lot of fun.
The best neighborhoods to stay in Lima are Miraflores and Barranco. Both of these neighborhoods are very walkable with trendy cafes and restaurants.
Read a full guide to Lima here
If you don't know where to go you can sign up for one of the free walking tours. They are fun a great way to meet locals and other travelers.
Before you go to explore the famous archeological sites of Peru, visit some museums in Lima to get a taste of the Pre-columbian culture and art. Museo Larco in Lima is a wonderful place for that.
Privately owned museum in Lima with a large collection of Pre-Columbian art, famous for its erotic pottery.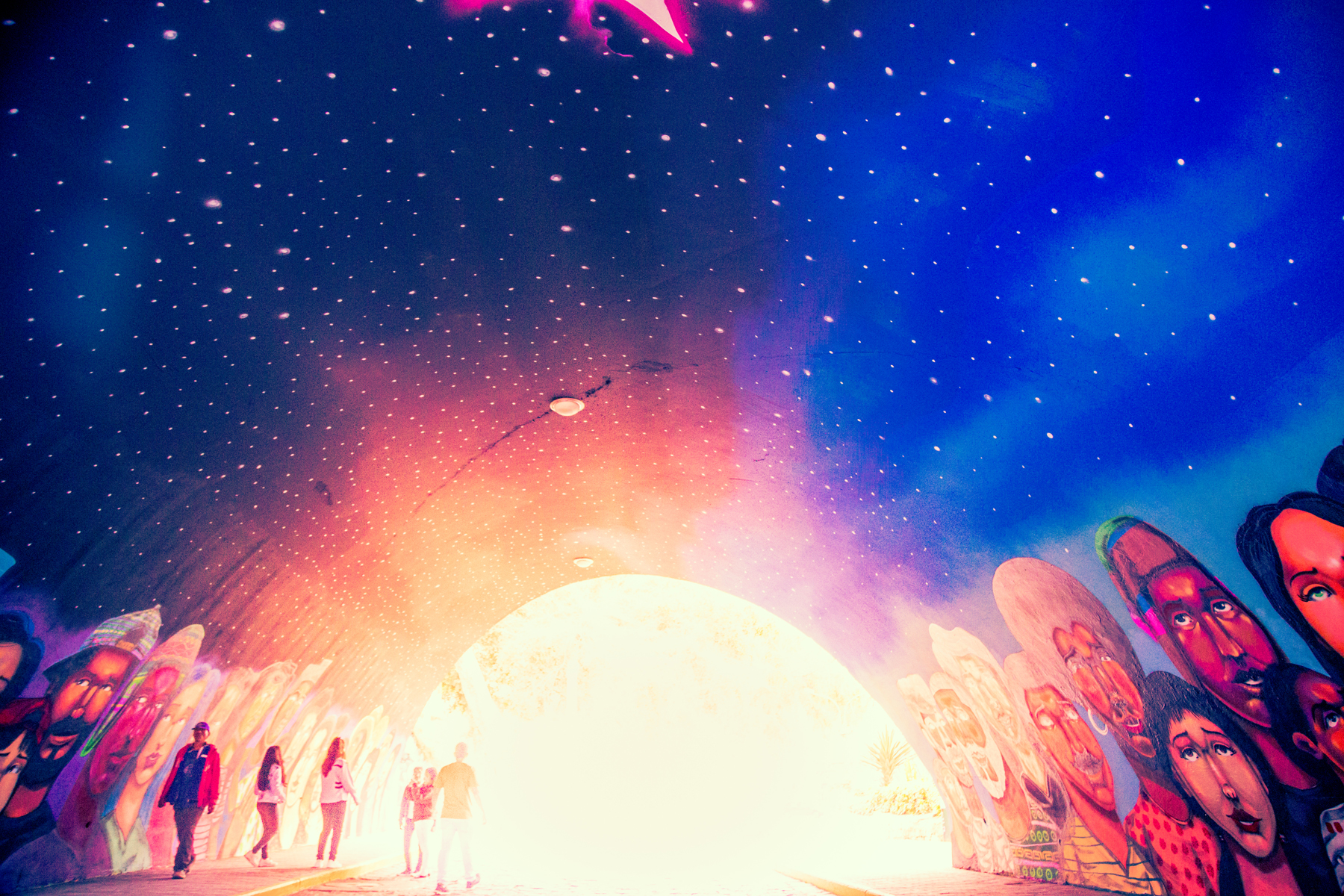 Go on a free walking tour to explore the art district of Barranco with colorful murals.
This small desert oasis is very popular among young backpackers. The main attraction in the town are the sand dunes, where you can go sand-boarding or ride in a sand buggy. Huacachina is fun and definitely worth stopping by if you have the time, but one night was enough for us. It's a relatively small place and there isn't much to do besides the activities listed, but if you're into relaxing and drinking cold beers by the pool you might want to stay a few night longer.
Watching the sun setting down from the sand dunes over the town is a must!
There are 41 islands on the lake and you can visit some of the communities that still live there, by a speed boat. There are many companies that offer a similar service that you can book from Puno. Make sure to ask for the speed boat, otherwise your journey will take much longer.
Remember to bring some cash with you since there are no ATM machines on the islands and you might want to buy some handicrafts.
LAKE TITICACA
The highest navigable lake in the world, located on the boarder between Peru and Bolivia. The lake consists of two basins: Lago Grande situated in Peru, and Lago Wiñaymarka or Lago Pequeño in Bolivia. The nearest town is Puno, which perhaps is not the most charming, with clustered unfinished brick buildings. However, the sunsets and sunrises overlooking the lake are breathtaking.
Hotel Libertador, Lake Titicaca
This is the only hotel situated on Lake Titicaca. This hotel is a part of a known upscale hotel chain in Peru. Request a room with a sunrise view. Although the rooms could use a new fresh design, the hotel restaurant serves the most incredible Peruvian cuisine.
Below: Sunrise view of the Lake Titicaca is the reason why people like stay at the hotel Libertador. Plus there are llamas roaming the grounds of the hotel. This is a perfect place for a relaxing vacation.
A glass of wine and a cheese platter, at the patio with an outdoor fireplace is perfect to watch romantic sunsets.
"The Floating Islands"
The Floating Islands of Uros are a series of islands on lake Titicaca occupied by the Uros people. They are constructed from reeds that grow abundantly on the lake. These manmade islands were designed to be moved if necessary, and they need to be constantly maintained by their inhabitants. Fresh reeds are added constantly, otherwise the islands would rot and sink. All the dwellings on the islands, even the boats are made out of these golden reeds.
Like many native groups in Peru, the Uros people wear unique traditional clothing. Woman wear colorful, oversized skirts, and the tips of the long braids are tied together with large pompons.
You will only stay about one hour on the islands total. The natives will demonstrate how the islands were built and afterwards they will offer to sell you some local souvenirs.
These beautiful and unique islands along with the colorful outfits of their inhabitants will make you feel like your on a Disneyland fairytale set!
Taquile Island
Taquile Island is much bigger than Uros, and it's a "proper" island situated on a rock. If you have ever been to Catalina island in California, you might find it very similar. Hilly rocky terrain with Mediterranean climate and blue waters surround it. Most of the locals are involved in agriculture or fishing but tourism is also thrives.
As part of our tour we ate lunch at a local restaurant: a homemade quinoa soup and a fresh trout from the lake, were simply delicious.
There are also some interesting traditions on this island. For example instead of a handshake, people greet each other by exchanging coca leaves that they carry in a shoulder bag. This culture is also known for weaving intricate textiles, and you see almost everybody, young and old, women, men and children always occupied knitting some clothing garments: hats: bags, belts etc. Knitting is such an important part of their lives and they say that if you don't know how to knit there is no way to get married.
The island is self-sufficient and there aren't any cars on the island.
The Arequipa region is abundant in minerals, and with several mines, it's the richest state in Peru. There is a strong regionalism in this area, with many locals almost wanting to separate from the rest of Peru. They considered themselves neither Peruvians nor Europeans. The sense of pride is very strong. Arequipa is also a distribution center for the whole southern part of Peru.
AREQUIPA
A charming colonial town with a beautiful church and cafes surrounding the main square. The fountain in front of the church is a popular meeting point for tourists and locals, especially in the afternoons you will see locals, food vendors, shoeshiners and others offering their services. The Misit volcano with a height of 20, 000ft makes a beautiful backdrop for Arequipa.
Hotel Libertador
Beautiful hotel in a very good location and large gardens. They even have a small petting zoo with Llamas and a tortoise.
Logistics and transportation: PeruHop
We want to thank PeruHop, a transportation company who we traveled with for a few weeks to see these incredible places. We chose to travel with them because of their excellent driving records, well-organized tours, and comfortable buses. Peru is infamous for reckless drivers and unfortunately, you have to be very careful about the bus company you travel with. We were very happy with PeruHop and we highly recommend them to travelers visiting Peru. They offer a range of services: from transportation to tours, meals and accommodations. Traveling with them not only gives you peace of mind and you know you will get safely from point A to B, but you will also get to makes some stops and see some sights you wouldn't on a local bus.